We started with Tilpy three years ago with an idea to help customers getting high quality photos in time-saving manner. Closely related to that is our second mission: to provide our handpicked photographers innovative ways to sell their photos.
And today we have some big news regarding our promise for photographers. We went great lengths to make sure that you can sell more photos while having full control over the process. Some months ago we introduced the concept of a store for each of our users - we call it Marketplace and today we finally make it the central point of your Tilpy user experience.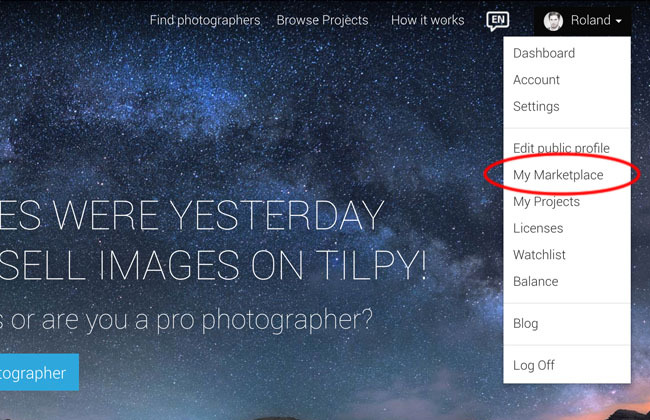 We still pay a lot of attention to user portfolios and work hard to promote our photographers in our social media channels, but most of our users are interested to sell their work in the first place. And we finally address this - in a big way.
Upload your pictures directly to your marketplace
First of all - many of our users told us that selection of Tilpy projects (where they can submit their works) is not that big. While we are working really hard to address this issue (stay tuned for some huge announcements regarding this), what we did is to allow you upload images directly to your marketplace.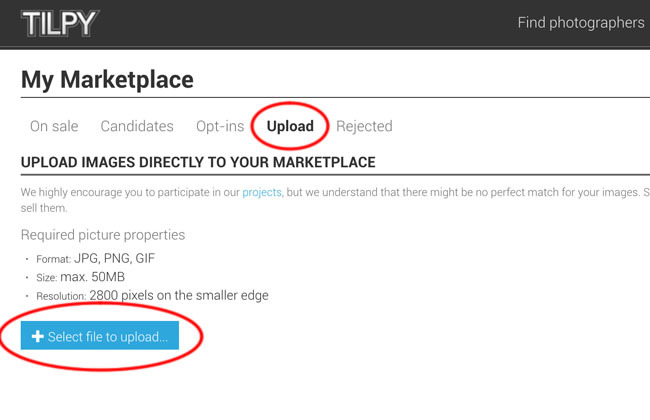 You can ask: "Hey, wait, did you just re-invent the wheel, I mean microstock?" The answer is Yes and No. Yes - because this concept is really familiar to everyone who have ever submitted their work to microstocks. No - because what happens with your images after you upload them, is well beyond what most microstocks are doing.
And here comes the second reason for our Great Marketplace Release.
Tilpy submits your pictures to suitable projects
We don't only save time for our clients by letting them review the submissions instead of actively searching for the image. Now we also try to save time for you by automatically re-submitting your already uploaded works to the new projects.
When we say that you still have the full control about selling your images, we are very serious. Whenever our curators choose your image for the project and submit this image on your behalf, you will get a notification about this onto your Dashboard (we don't send mail because we don't want to spam you with too many messages). Then, depending on your wish, you can withdraw your image from the project, if for some reason you don't want your image to be sold there.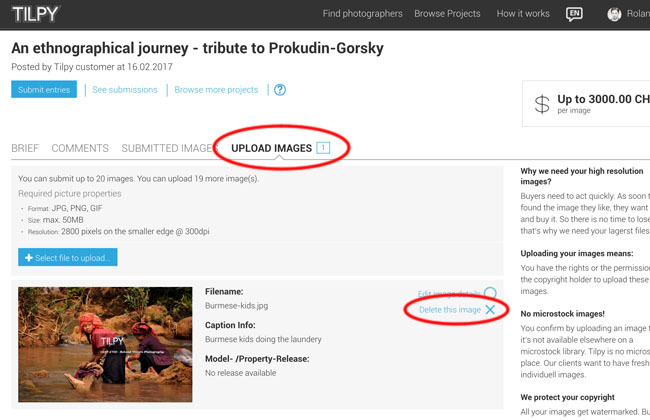 There are also licensing rules to consider. We never sell your image with a license that you don't approve. To remind you - when you submit your image to some project, we ask for the list of licenses you'd like to sell this image in your marketplace (additionally, we ask your explicit consent to sell the image in that particular project, if it has strict licensing rules).
Now, when your image is copied by our curators to a new project, in some rare cases the licensing for this new project is not compatible with permissions that you have given us at the time of upload of your image. In this case, we ask you to "opt-in". For your convenience, all images that require your opt-in confirmation, are shown on the separate tab in your Marketplace backend.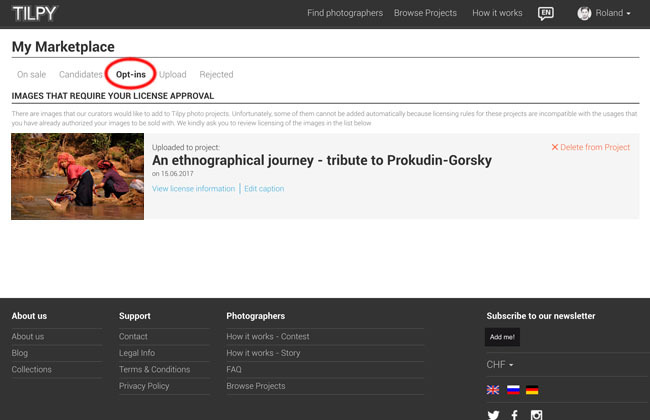 To summarize it: from now on, whatever image you want to sell on Tilpy, you can upload to your Marketplace, either via suitable project or directly.
But that's not all. There's One More Thing.
Easily copy your portfolio pictures your marketplace
We love all those beautiful photos that you have uploaded to Tilpy during the last two years. They well deserve the special handling, too. It is possible, that you've once uploaded an image to your portfolio but did not find a suitable project for it at that time. Our recent changes let you put it on sale now, too.
For that, just go through your portfolio in the gallery view - for every "old" image that is large enough to be sold (2800 pixels on the smaller side), we will show a "Copy to My Marketplace" button. Clicking it will have the same effect as the direct upload to your Marketplace.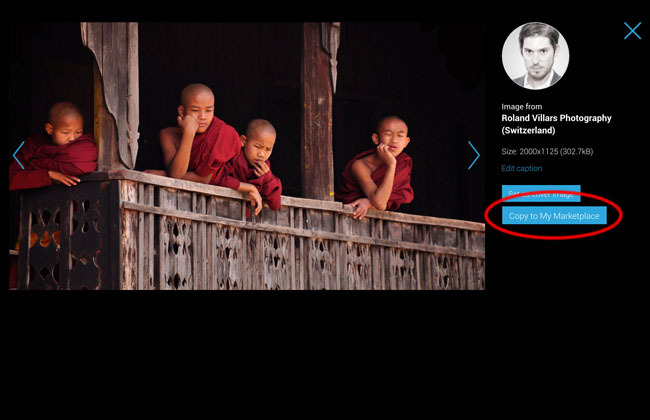 Since we curate everything, we will also make a quick check whether the photo is really suitable for sale (it should not have frames and watermarks, so that client can use it right away after purchase) - but now you will never need to upload your images twice if you want them being both on sale and in your portfolio.
Yes, that was a lengthy post but maybe it's still insufficient to give you the full overview. We encourage you to try everything yourself and send us your questions (if they appear).
That's it for now.
Thank you for being part of Tilpy
Your Tilpy CTO -Johnny