Dyrholaey
Actual Iceland adventure had started, when my plane touched the icy ground of Keflavik airport. Since we were approaching from South, the plane had to pass through all south Iceland and I saw a part of magnificent views through the clouds. That´s enough for me to overdose adrenaline and I barely stand still, just want to go there and start shooting.
The first stop was Dyrholaey which is located by end of route 218. Iceland has only one main road called "Ring Road" or Route 1, therefore finding location is so easy; The route 218 is 187 km away from Reykjavik and the only way to reach out Dyrholaey. Actually, Dyrholaey, Reynisdrangar and Vik are very close to each other, however there is no short cut between them. For example, you need to drive 8 km in 218 to reach Dyrholaey, then go back to route 1, and continue driving another 7-8 km to reach route 215 for Reynisdrangar.
Here, I would like to give one very important information. If you would like to visit Iceland in winter, you must rent 4x4 car, because it is not allowed to drive normal cars outside of Reykjavik. When you enter these little routes like 218; you would be very grateful about 4x4 cars because those roads simply not nice route for drivings, however you just amaze with beautiful landscape while driving.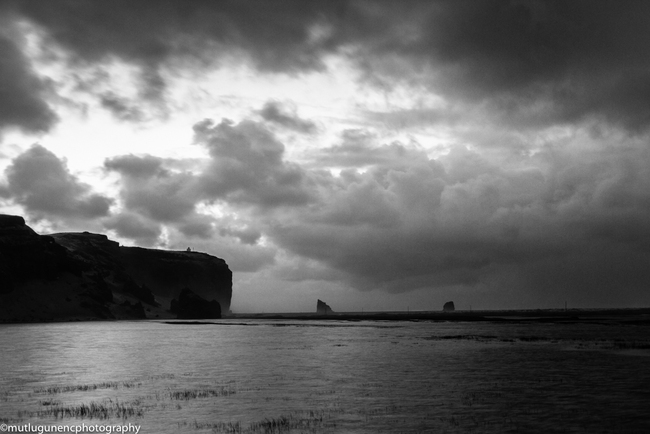 (Canon 7D; 16-35mm f2.8 IS USM; ISO 100, 27mm f/11 2 sec)
Dyrholaey is end of the route 218 and once you reach there, the view is simply breathtaking. To the North; the big glacier Myrdalsjokull,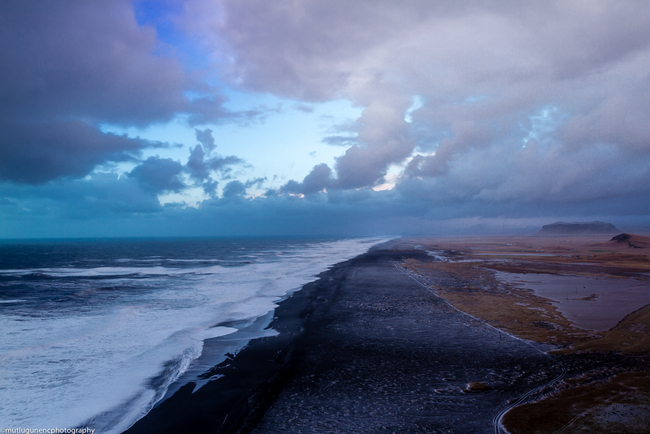 (Canon 7D; 16-35mm f2.8 IS USM; ISO 100, 16mm, f/9.0, 1.6sec)
to the East; the black lava beach,Reynisdrangar,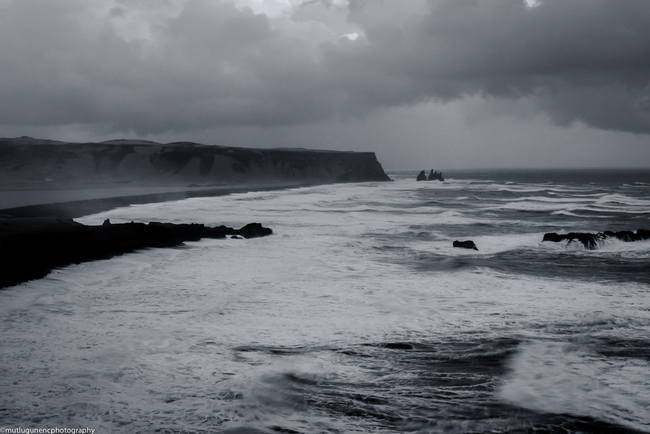 (Canon 7D; 16-35mm f2.8 IS USM; ISO 100, 29mm, f/11, 0.8sec)
in front; whole North Atlantic with giant black lava arch which is 115 metres high.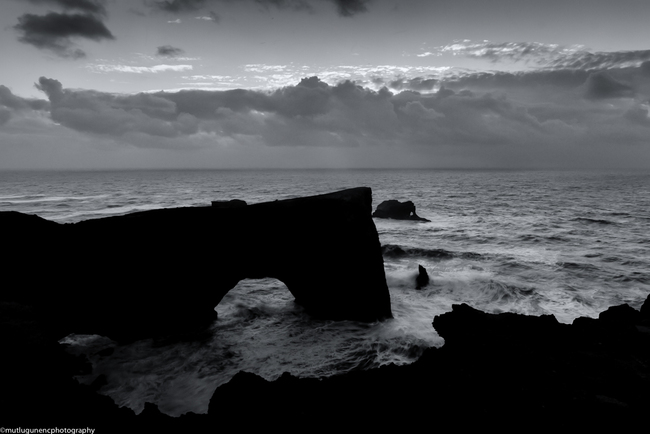 (Canon 7D; 16-35mm f2.8 IS USM; ISO 100, 16mm, f/11, 1sec)
Dyrholaey light house is one of the most beautiful light house in North Atlantic with castle shape.
(Canon 7D; 16-35mm f2.8 IS USM; ISO 100, 35mm, f/9.0, 0.5sec)
When I was up there, I just feel the wind and all my surroundings were very surreal, which made me dream that I was one of the seagull hoovering around black cliffs. The enormous waves kept crushing against the black arch and created thunder like noises. It was so mesmeric and hypnotising feeling. I just loved to be standing there, the strong wind carried all those sea smells to me.
Reynisdrangar
As I mentioned before, even though Reynisdrangar can be seen from Dyrholaey; there is no easy way to reach out this place. This place is by end of the route 215 and it is one of the most popular touristic attraction point in Iceland. Even in December the parking lot was full of tourist buses and cars carried many people, mainly Chinese people to this beach.
The beach is totally black due to lava sands and always has gigantic waves. I was told that the sea is very deep here, even few metres from the shore it can be deep around 3-4 meters immediately. Of course, when the big waves crushes onto shore, it creates very dangerous underwater torrents, which makes the beach extremely deadly and dangerous. On top of that; there are some different waves hit the beach sporadically. Icelandic people name these waves "sneaky waves" they are invisible, like tsunami, however as soon as they become very close the shore, you just see a gigantic deadly wave which swept everything close by. The Icelandic government has put many warning signs along the beach for the people and it is prohibit to leave kids alone, prohibit to turn yourself against the sea if you are close by etc. However, many tourists, especially Chinese people, ignore these warnings and every year 5-7 of them just dragged by sneaky waves, while taking their last selfies alive. Therefore Icelandic people name this beach as "Chinese take away".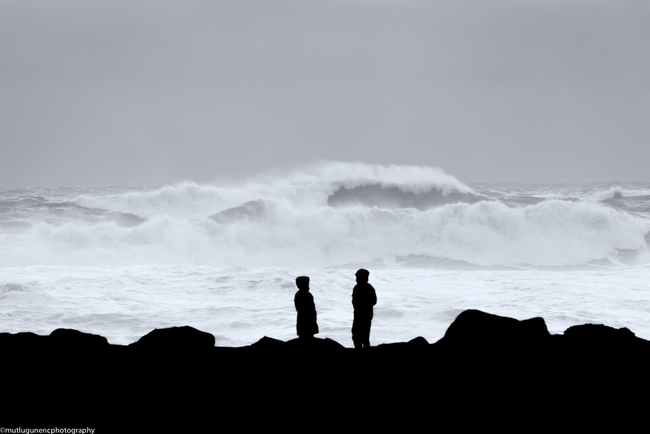 (Canon 7D; EF70-200mm f2.8 IS II USM; ISO 250, 175mm, f/7.1, 1/80 sec)
Reynisdrangar is just situated under the Reynisfjall mountain which rock formation look like a giant lego game and create not deep caves by the beach. The movie "Noah" was shot there.
(Canon 7D; EF70-200mm f2.8 IS II USM; ISO 100, 85mm, f/2.8, 1/50 sec)
By the end of the beach there are 2 basalt stacks situated in the sea as if they are ancient warriors from thousands of years ago and protecting the area against monsters.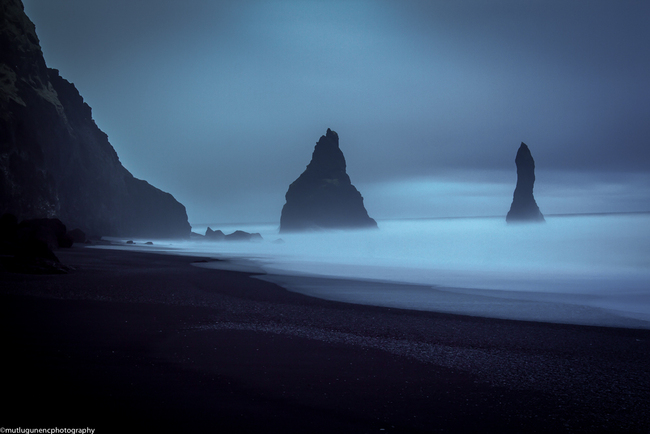 (Canon 7D; 16-35mm f2.8 IS USM; ISO 100, 32mm, f/9.0, 60sec)
This beach is one of the most interesting and one of the most breathtaking beach in the world, and one of the deadly one. It is so easy to focus on the camera, tripod and try to take beautiful photos, however, it is not a joke, you have to keep eye on the waves. Local guides keep warn people and pay attention to waves, but it is always be careful.
Another challenge is the salt. Because this beach is always windy, always has giant waves. It means, wind carries sea water everywhere and makes surrounding very hazy which is not good for the shoot, and all the equipment wet with sea water easily. I had to clean my camera and lenses several times try to avoid any damage.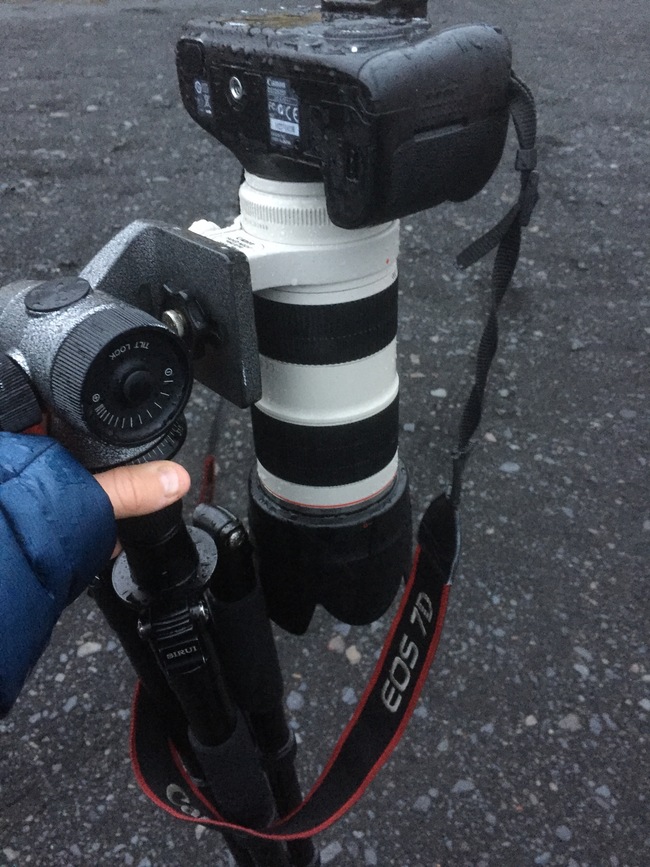 Vik
The town, Vik is one of the biggest town in southern Iceland with population of 291 inhabitants!
Vik is just situated by Myrdasjokull glacier, which on top of Katla volcano. The last activity for Katla was 100 years ago and according to locals, it may erupt soon, which make glacier melt and create flood. If it happens, the town church, which is situated by the hill, will be sole survivor from this catastrophe.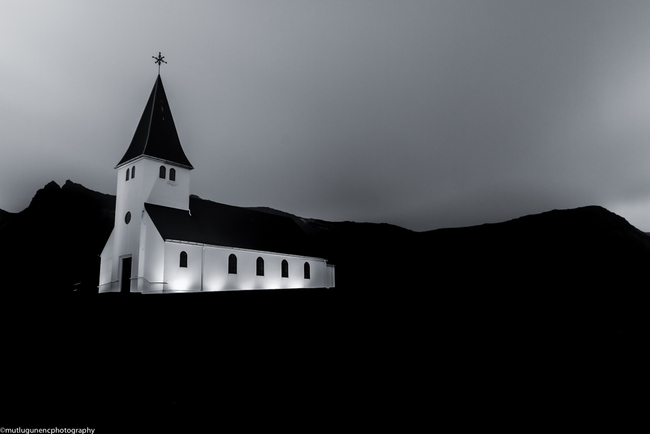 (Canon 7D; 16-35mm f2.8 IS USM; ISO 100, 16mm,f/9.0, 15 sec)
Therefore, whole town has several drills annually to train themselves to rush to the church, when Katla becomes active.
Vik also has black sand beach, similar to Reynisdrangar, but less visitors. Scattered lava rocks and wave foams also make the surrounding like a illusion.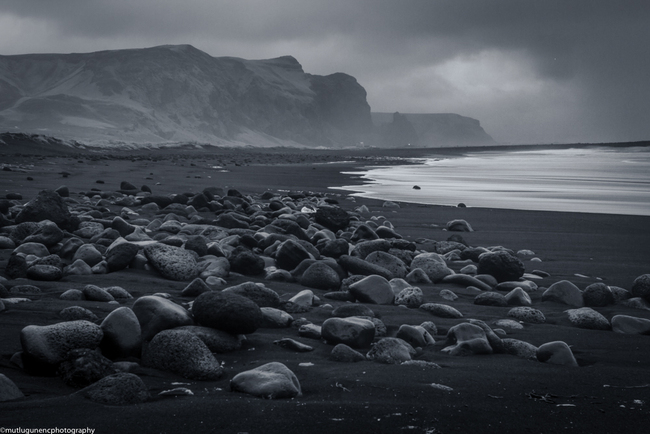 (Canon 7D; 16-35mm f2.8 IS USM; ISO250, 35mm, f/11.0, 2.0sec)
One of the most interesting thing on the beach was 3 basalt stacks watching over the beach, town and the church. According to local legends; actually these 3 basalt rocks were Trolls which they tried to drag a ship to shore before sun rise, however they were unable to do so and after the sun rise, they were frozen to rocks.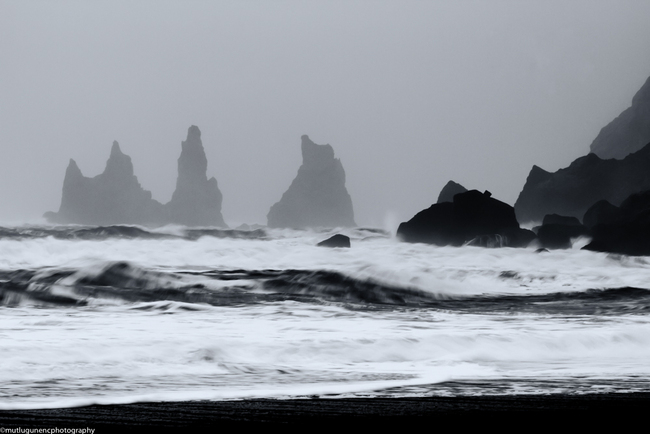 (Canon 7D; EF70-200mm f2.8 IS II USM; ISO250, 102mm, f/9.0, 0.4sec)
Since, December is the most shortest days in Iceland, I had a less than 5 hours day light and on top of that I had to fight against the strong wind, rain, sleet and sea salt on the first day. The weather was so unpredictable and rapidly changing which never made my life easier.