He's a master in creating astonishing surrealistic collages or as he just calls it "new media art". We proudly present an interview with South African born and in the United Kingdom living Marius Els.
Marius Els manufactures images which are telling a whole story and have a deeper meaning. We have the opportunity to dive in the psychology behind one of his images here.
We had a lot of people asking us about Marius Els, especially on how he's processing his pictures. We took that as an opportunity and asked him directly, if he would give us the honor for an exclusive interview. Luckily he agreed upon.
Here you find answers to your questions, on how he is making his great, fantastic artworks, how he is getting inspired and much more. Enjoy it!
Thank you very much Marius for your incredible works and for this exciting interview!
---
General Information
My name is Marius Els, I am South African born and been living in the United Kingdom for the last 24 years. I started training in classical ballet at the age of 6 and was excepted into my first ballet company at the age of 18. My ballet career continued till late thirties at several contemporary and ballet companies dancing solo and principle roles from the classical repertoire.
Career as a dancer is generally short lived and after retiring in 1998, I started looking for a new way to express myself creatively. I loved taking photographs since ever I can remember but was always overwhelmed by the technical side of photography until I did an online photography course with The Photography Institute, specialising in portraiture.
Although enjoying taking portraits I still felt unsatisfied creatively and felt a great need to express my imagination and life experience through creative photography.
While researching digital fine art photography, I came across and was inspired by Brooke Shaden and Michael Bilotta. I was instantly taken by the technical skill, emotion and deep sensitive subjects in the images and decided to explore this new intersection of art and technology.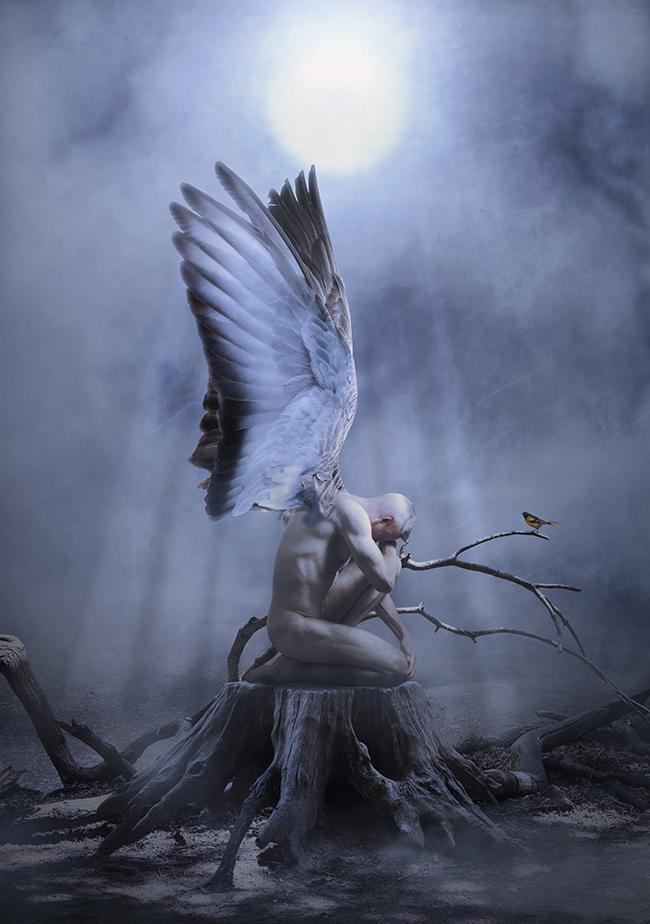 Image by: Marius Els - Solitude
---
Why Fine Art Photography?
It is three years since I started exploring this digital art form, still seeing myself as a 'youngster' in new media art and on a steep learning curve. It was important to me that from the beginning that I find my own style and way to tell my story, expressing my thoughts and ideas through digital manipulation, digital collage, digital montage or also placed under the term, new media art.
Although I believe that I am still in the beginning of a long process of fine tuning my style and ideas I am happy with the strong theatrical and sometimes fantastical and surreal influence that is visible in my images. I think it is also important for me to draw inspiration from my own life experience that makes me unique and different from other artists.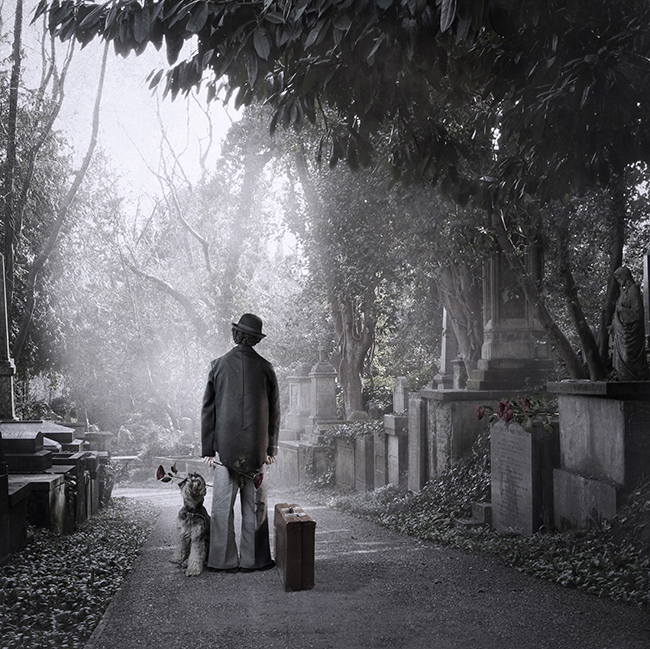 Image by: Marius Els - Farewell my Love
---
Inspiration and creative process
One of my favourite past times is to visit and get lost in the galleries and museums of London, finding inspiration in the creativity, details and craftsmanship of all the wonderful artists through the ages. I think artists are automatically drawn to what inspire them and therefore I am inspired daily by life and objects around me. Being a self taught artist and conscious of my lack in education in this area, I often try to visit exhibitions to educate myself and visually train my eye with colour and composition through the works of well known artists. Lately I was inspired by the surrealist painter Wilfredo Lam at the Tate Modern and Maria Rivans at the 2016 Affordable Art Fair, London. I find it admirable when artists find a strong conviction in their style and subject matter and visible through all their works of art and something I strive for.
The creative process normally starts with a strong recurring idea which follows by research, planned modelling, props and landscape photo shoots from which I gather chosen images to create the final image. I also love getting involved with props, costume and hat making to put my personal stamp on the image. I photographed myself in many of my images and uses my experience in performing to portray an emotion and would like to think that performance art then becomes part of my image.
Once I have photographed all the images for a new project, I start working on the structure, style and composition by cutting out the individual objects and placing them in different orders on different layers (photoshop term) until I am happy with the composition (this is all done digitally on PhotoshopCC). This involves a lot of patience and time, moving images about and finally blending with filters and lighting effects to give the final image a smooth overall quality. The great advantage of photographing your own images instead of using stock images is, by taking your imagery/photographs with your camera, you can control the light, colours, camera angles and the shadows. This contributes to the blending process before editing starts and give a more pleasing and smooth end result to your image.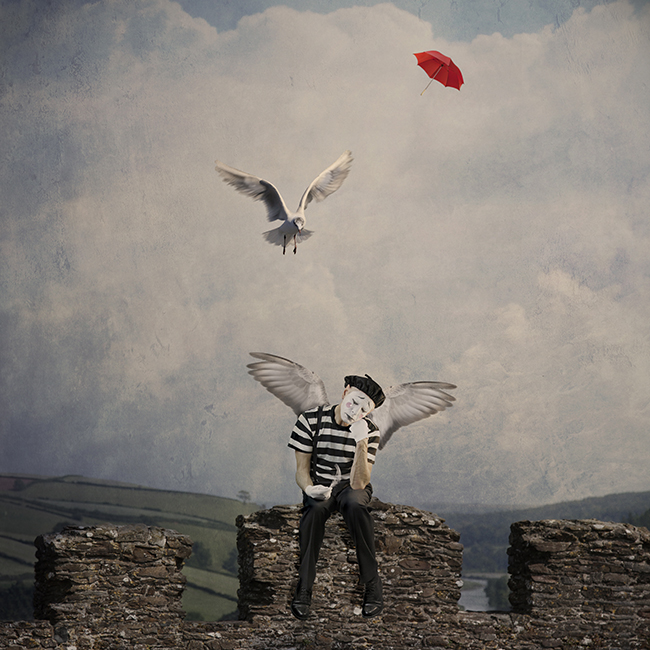 Image by: Marius Els - Flying Lessons No.1
In Flying Lessons which portrays our daily emotional and psychological challenges which we try to face and overcome, I use body language to give the image a sense of struggle and fragility. The mime artist with the painted face represents the mask we put on for the outside world, pretending all is fine. The umbrella, whisked away in the wind represent how easily we can loose control in life and the seagull, inspired by the book Jonathan Livingston Seagull, is teaching flying lessons/life lessons to cope in life. This simple image has many layers to uncover just like all the layers it consists of on Photoshop.
---
Gear and Technology
Canon EOS7D
22 - 105mm Zoom lens
InterFit Lighting Kit (mixture of daylight lighting and halogen lighting)
Photoshop CC
My personal stock images gathered through the years or photographed for a specific project in the making
Youtube Photoshop Tutorials by PhlearnLLC
cloud and water splash brushes by Brusheezy
---
Creating for a living
In my short journey I have been lucky to be part of three small London exhibitions with the last one being part of the fund Raising Event for the London Charity, Mind. My series, Seasons of the Mind, was part of an exciting evening of photography, poetry, singing and acting performances.
A couple of years ago, through my interest in psychology, I did a course in how to take part and support in a therapy group for better mental health. I based two of my projects, Talk for Health and Seasons of the Mind, on these courses from which I was invited to exhibit. This has given me an opportunity to produce, print, present and sell works to an audience which is of course a very gratifying experience. This also accentuated for me the importance of passionately following topics and themes that are of personal interest.
As you all know the reality of being a photographer and new media artist is the amount of wonderful work and artists that are out there. This makes Tilpy so crucial, not only for exposure and the great personal support they give artists but more importantly giving and selling your work at good value.
I work by myself and the day to day life of an artist can be challenging and isolated but I am sure, like many of you will agree, the necessity of creating and growing in your art form is greater.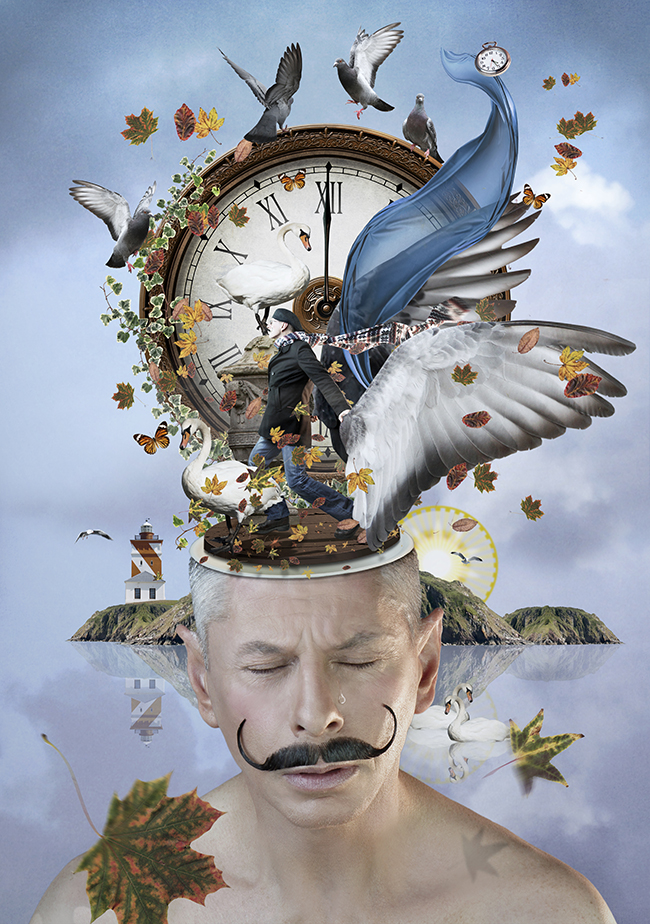 Image by: Marius Els - Southern Fall